SALES/TRENDS INTEGRATION – LABELTOOL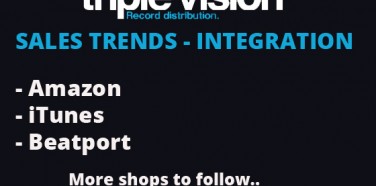 Triple Vision is proud to add our fully integrated sales trends option to the latest version of our labeltool.
Within the newly added "Trends" tab labels can look up their 7 or 30 days sales trends.
As of now, this features trends from shops like Amazon, iTunes and Beatport.
Naturally the final data will be shown in your quaterly sales report. This feature merely
serves as an indication of how certain products or assets are doing. Even though we think this tool is pretty spot on, it can never be used as actual sales.
We hope to give you a better insight on how your tracks are doing and more control
within our labeltool.
We are looking to add more DSP's to the Trends tab quite soon. For now, you will be able to see trends from Amazon, iTunes and Beatport. Several filter options have been installed
for your convinience. You are now able to use the following filter options.
Last week – This shows all the trends from the last 7 days.
Last 30 Days – This filter will show all your trends from the last 30 days.
Products – This filter shows the trends for entire products (singles, EP's, albums)
Assets – This filter shows the trends for the individual assets inside the products (Tracks)
Downloads – This filter will solely show "Downloads" not streams
Streaming – This filter shows solely the streams * (as of now, no streaming platforms are integrated in the labeltool, we expect for this to happen quite soon)
Feel free to play around with our brand new "Trends" feature and don't hesitate to contact us when you'd have any questions.
https://labels.triplevision.nl/login