Giorgio Gigli & VSK "Silent Age EP"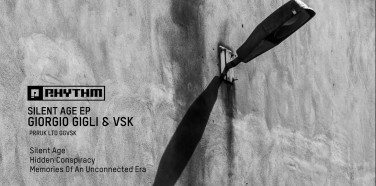 After his EP together with Ness, Giorgio Gigli returns to Planet Rhythm with another Italian collaboration. This time he is joined in the studio by Roman talent VSK. Whilst Gigli is known for his hypnotic productions on labels such as Prologue and his own Zooloft, VSK has been steadily releasing bangers on labels such as EarToGround and recently Perc Trax.
Both gentlemen's styles are blended flawlessly together in a masterful EP. Reverb soaked sounds are effortlessly merged with powerful kicks and basslines.
From the haunting atmosphere on "Silent Age" to the trademark VSK synthwork on the B-side, this special collaborative debut is one that we surely hope to to present again on Planet Rhythm!
Planet Rhythm – November 2016
Tracklist:
1. Silent Age
2. Hidden Conspiracy
3. Memories Of An Unconnected Era