ZeroZero In The Warehouse [Thursday 17 Nov]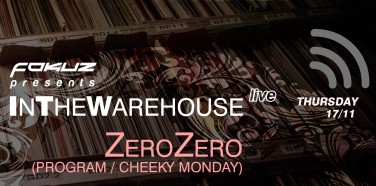 ZeroZero is a Drum & Bass duo consisting of Sam from Jersey and Jesse from London, both based in Amsterdam working as Audio Engineers, Producers and DJs. With releases on labels such as; Evol Intent Recordings, Mindtech Recordings, Vandal LTD, Liondub, Broken Audio, Vibration, FatkidOnFire and Soul Rebel and DJ residencies at Cheeky Monday and Vanguard Audio, as well as positions as Head Engineers at Amsterdam's Red Bull Studios, the pair are constantly working on several different musical projects at once.
Supported by artists such as Reso, Spor, Machinedrum, Evol Intent, JFB, B Traits, Chimpo, Fabio, Bachelors of Science, Dave Owen, Adi-J and receiving plays on BBC Radio 1 and 1xtra, ZeroZero are writing music that appeals to fans of all the various DnB sub-genres. Their sound is heavily influenced by their love for funk, deep basslines and technical sound design as well as the musicality you'd expect from a duo with a background in playing live instruments.
With forthcoming releases on Andy C's ProgRAM, Xtrah's Cyberfunk and Stanton Warriors' Punks music, ZeroZero are a name to watch out for in 2017.