Resident Advisor reviews: Woo York – Grad EP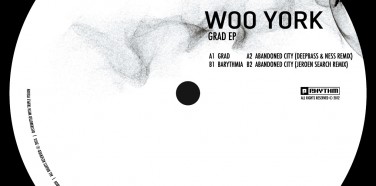 Over the past 18 months, Ukrainian duo Woo York have produced techno in all its various shades—from dark and unforgiving, through to softer, more melodic fare. Their latest offering on longstanding imprint Planet Rhythm, the Grad EP, draws on elements from both camps.
At first glance, the title track is all grey-scale intensity, merging off-kilter kicks with joyless shudders. Soon, however, delicate keys start to filter through, basking the ominous foundations in a warm, meditative glow. "Barythmia" toes a similar line, fusing almost Balearic pads with a forceful beat. Both are sincere and strikingly beautiful. On remix duty are Deepbass & Ness and Jeroen Search, who both rework "Abandoned City" (the original isn't included). Search takes the dubbier route, applying throbbing bass hits to a stark techno frame, while the duo hinge all focus on a standard rolling groove. Safe to say, neither measures up to Woo York's efforts.
"Taken from residentadvisor for full article click here"